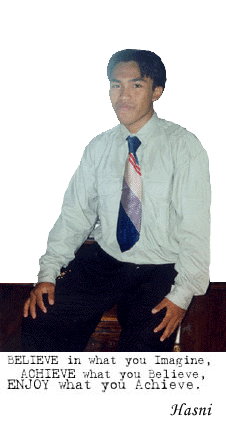 h o m e
l i f e p o e t r y
n e w s
r e l i g i o u s
g a l e r y
o p i n i o n
p r o j e c t
b i o g r a p h y
c a m p u s s
g u e s t b o o k


Assalamu'alaikum Wr. Wb.
Thank's to Allah SWT, the only one God in this world, that had given me strenght to finish this site and makes my dreams come true. And also to all of my friend that have been helping me, especially Mr. Yoyok Hartawan for every minute you give to help me up.
Being a nice and good people is a hard things to do. But with all respects to my religion-value, I still keep trying to be a useful man for other people. I wish you will like my site and having many pleasure by surfing in it, and I also hope that God will bless us all. Amien.


: : s i t e s c o n t e n t s : :

Galery of greatest poems based on our life lessons you've ever seen.

<< complete

News from a lot of information media that contain economic, politic, law, etc.

<< complete

One window to your world of religious information based on Islamic Values.

<< complete

Collection of photos, jokes, story, astrology, etc. from many categories.

<< complete

The place where I give my opinions and also the others too about everything. Discussion related to my opinions are welcome.

<< complete

Contain of potensial and profitable projects available to consume. Analysis is also enclosed.

<< complete

Consist of the infomation about the place where I'm studying and also miscellaneous things related to my study such as homework, lessons-cheat, etc.

<< complete

Place where you can write everything you want to. It could be a critics, salutations, problems, ideas, etc. << complete
Copyright © 2001 The Khusnul Chotimah Association